Arthur Hill High School 65

ANNOUNCEMENTS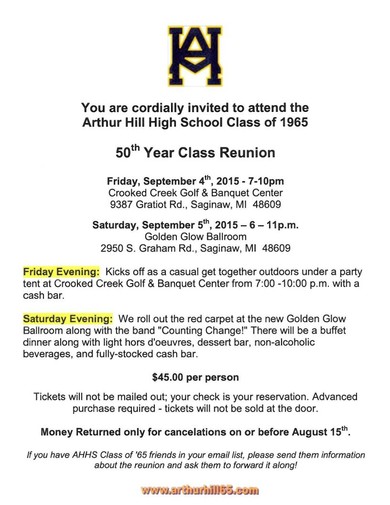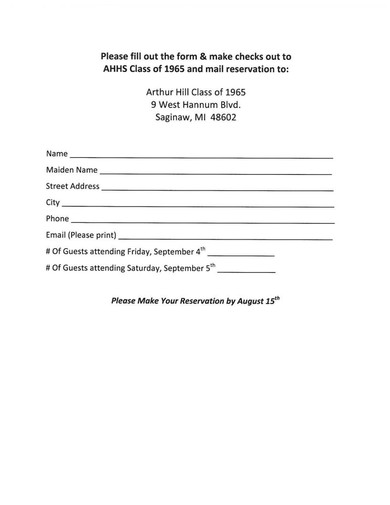 Places to Stay in and around Saginaw:
Try Davenport Inn, Sheraton Four Points and Hampton Inn.. Use internet to find their phone numbers. There are also things available on airbnb.com.

Reunion!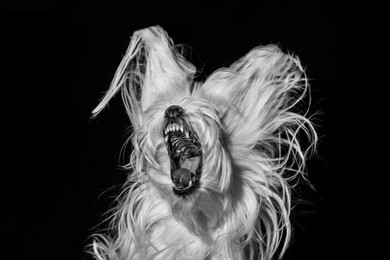 One of our excited classmates!
September 4 &
5,2015
Arthur Hill Class of 1965's
50th Reunion!
Friday night will be a casual get together at Crooked Creek, 9387 Gratiot Rd from 7-10. Cash bar, snacks and plenty of time for conversation.
On Saturday, we will roll out the red carpet at the wonderfully new Golden Glow Ballroom, 2950 S. Graham Rd in Saginaw.
The menu will be publish soon, but my taste buds are stimulated just by reading it. Yum!
A band, Counting Change has been hired to rock the oldies for those of us who are still able to dance, and maybe those of us who never danced can learn some new moves. But there will be plenty of quiet time that we of grandparenting age, need to hear our conversations.
Ticket prices and where to get them, will be out soon... very soon.
THE GAME HAS BEGUN on our 50th Reunion Website. Check often to see the latest entries. RULES: Once you've been tagged, you are supposed to write a note in the Message Forum with 25 random things, facts, habits, or goals about youself. At the end, choose five others from the reunion website to be tagged. If I tagged you, its because I want to know more about you. You must respond within three days and tag (at least) three other people. We once knew pretty much everything about each other, now . . . not so much. Anybody been in an earthquake? Nope... Whale watching? You bet! Grow jalapenos? Boston Legal fan? Season tickets to ball games? Have 10 grandchildren? Weigh what you did in high school? Weigh twice what you did in high school? By-pass surgery? Lasik and would you recommend it or not? Everybody had their colonoscopy? Anybody? (I bet more women have than the men) See, we aren't movie stars and didn't grow up to be president, either, and that's okay. We want to know you again and be friends. Hope you join the fun."
Karen Hassberger Hoerauf:
25 Random Things You Don't Know About Me:
1) I love words, word play, puns and clever jokes.
2) I have dyslexia especially with numbers and seplling (spelling).
3) I trained myself to deal with my dyslexia by the 6th grade.
4) My dyslexia is back and I struggle to play games such as "Scramble with Friends". My friends always beat me... by lots.
5) I love to create: writing, art, painting, quick combacks, whatever!
6) I am not patient... I want it NOW! Don't ask me to practice... when I sit down at the piano, I should be able to play Motzart right from the get-go.
7) When I read the newspaper, I always skip the sports section and the "Letters to the Editor"...they drive me to drink!
8) I am a very fast reader. I can skim the paper and hold up my end of the conversation in current events.
9) I was interviewed by a reporter from Le Monde (THE French newspaper) on my views of the Trevon Martin affair. I was hoping for a conviction.
10) I retain the most obscure facts, which makes me a great trivia partner.
11). I lived in Frankenmuth for 30+ years. I was so-ooooo glad to move away.
12) I lived in downtown Bay City for five years. I so-oooooo hated to move away.
13) I check out 8-10 books whenever I go to the library and finish them all in the two week check-out period.
14) I can't dance like nobody's watching but I'm a great chair dancer.
15) I always have to do something else as I watch tv.
16) I love "Walking Dead" and "Orange is the New Black".
17) I hated "Seinfeld". Every character irritated me!
18) I have NEVER used an alarm clock to wake up.
19) I love to cook but hate to plan meals.
20) Mark and I have traveled to 58 countries in the last 10 years.
21) We went to Morocco in September, and have since gone to Italy for a month. Heading for Alaska, Peru, and India between now and April of 2016.
22) I miss my freckles
23) I have no idea what my natural hair color is.
24) Everything reminds me of a song which I immediately begin to hum.
25) I never dated in high school... not that I didn't want to...!
I challenge Mary Eaton, Billie Mull, Nancy Scales, Marlene Melcher, Norma Pearl and Barbara Wressell Henshaw to add their own 25 off-the-cuff random things no one knows about you... don't think too hard... and then challenge 5 classmates to add their own thoughts.
Update: June, 2015
This site is
Bookmark it!
This website is absolutely FREE to alumni of the AHHS. Your information on this website, including your email address, is not made available to anyone and all profiles are hidden from public view. The site has been supported by alumni. Please see a special note on the Thank You page. We do not allow outside advertising, yet we welcome assistance from fellow alumni to help with the site. We are not affiliated with classmates.com or other alumni sites.
The two most popular years for attending a high school reunion are the 10th and the 50th for obvious reasons. We have been out of high school, now, for over four decades. The AHHS class of '65 has had reunions every five years, missing only our 15th. If you have never been to one of our class reunions, I would encourage you to take the time to come back to our next one... the big Five-O. You will be surprised just how much fun it is to regroup with all the gang and see how everyone has evolved through the years.

Reconnect here...

with those

not on Facebook

and those who are!

Go Lumberjacks!

---
This is pure Saginaw.
http://puresaginaw.com/what-is-the-oldest-business-in-saginaw-county/
Arthur Hill High School 65
Classes of 1965

Your Kids Teach You The Darnedest Things! About two years ago, my daughter dropped a bombshell when she came down to visit. "Dad," she said, "I'm doing roller derby. I'm Hazel Smut Crunch of New Hampshire Skate Free or Die." I remembered Joannie Weston and the Bay Area Bombers on TV from my own misspent youth, but thought roller derby had gone the way of disco and big hair years before. Boy, was I wrong. A woman I knew from local theater was involved in roller derby, too, and she introduced me to her friends. By the time I knew that several roller derby leagues had their own Web site, I also knew there was a book in there somewhere. I wasn't sure what it was yet, but the bus had left Kansas far behind. Two teams skate in New Haven, only 30 miles away, and my theater buddy got one of her rink friends to comp me into a bout, derbyspeak for a match. Let the research begin. When I got there, the arena was already packed. Vendors sold tee shirts, jewelry, CDs, ice cream, and home-made cupcakes big enough for croquet. The audience ranged from grandchildren in strollers to grandparents with walkers, and all of them were cheering. Most were family, friends, or—less often—colleagues of the skaters, but it was clear that everyone loved their Roller Girls. I was hooked before I'd found a seat. Roller derby now uses a flat track instead of the old raked oval, and the players stress athleticism and conditioning instead of the sideshow. The two thirty-minute halves were continuous action and the excitement reminded me of a basketball game with Saginaw High. The coach and a trainer invited me to their next practice session, where I interviewed players, coaches, and the head referee. It was like getting a free pass to a galaxy far, far away. Unlike the skaters from long ago who may have moonlighted as stevedores, today's roller girls tend to have a white collar and a college degree. Dee Nasty teaches middle school English. Girl Fawkes (who posed for my cover) is a property manager. Another skater works with autistic children. Every skater claims she feels more self-confident now that she's part of the team, too, and many report that they've become more assertive in their jobs. Humor ties it all together. The Woman's Flat Track Derby Association (www.wftda.com) has a data base of all the skater's names, and duplicating a name is akin to copying another clown's circus make-up, a serious no-no. Many of the names suggest violence, and they lean toward puns. Eleanor Bruisevelt and Luciana Pulverati skate for Connecticut teams, and a major English event (yes, it's even bigger in Europe) is called the Roll Britannia. When I took a friend down with me last summer, he was so taken with the match and the people that he introduced himself to the referees as "I'm with Steve, the guy who's writing the book," and asked about becoming a ref himself. The same day that I started writing the first draft, public TV ran a documentary about roller derby, covering the thirties (yes, that's when it actually started) all the way through the golden age of the Bay Area Bombers and into the eighties when it almost, but not quite, died. Was that a sign or what? Then my daughter's shiny new team, the Queen City Cherry Bombs, came down from New Hampshire. Hazel Smut Crunch scored the first points in the bout. The high point of the evening may have been seeing a little girl in pigtails—five years old, max—staring up at this behemoth (my daughter is six-three in skates) in blue tights and asking for an autograph. As role models for young girls, these women are on a level with the UConn women's basketball team, and they take it seriously. I was still groping for a book title when "Haze" told me that her team picked their name so they could play the old song by the Runaways when they were introduced. Each separate play in a derby bout is a jam, so I remembered "Whammer Jammer," the J. Geils Band harmonica workout from the seventies. There was my title. One agent passed on the manuscript because "I don't see how a novel about roller derby would be of interest to anyone except the participants." A month later, I did an author event with four other local authors and discovered that I was the only one who had not gone the self-publishing route. If you'd asked me about self-publishing a year ago, I would have asked when they last adjusted your dosage. Now, I asked those authors a few questions and decided to go Indie. I published the book at the beginning of October and bought an ad in the roller derby program. My daughter suggested the tagline "If you think ONE bitch on wheels is scary, what do you do with a whole pack?" Well, the women seem both thrilled and amazed that someone actually cared enough to get the facts and write a story about them, so Dee Nasty offered me free admission to the November bout—if I would do a signing. The same day that I said yes, she emailed me that they were posting my ad and the book cover on the five-foot video screen where they keep score. At that signing, I met a former student, who told me she was halfway through the download of The Whammer Jammers and loving it. Small world, yes? Hey, it's what you learn after you THINK you know everything that really counts. Especially when you learn it from your own kid. Steve Liskow
As always, we are grateful to those of you who have donated to our slush fund. The fund is being used to get things started since nothing is done for free anymore...really? Was it ever?
Thank you:
Sherry Spatz Kusowski
Tom Heidtke
Arthur Hill High School 65
Classes of 1965

My Most Embarrassing High School Moment
I was a Co-Op student, and as a class project we had to do a product demonstration. I decided to use something called an emersion heater. It was just a cheap "Made in Japan" (the equivalent of made in China today) coiled wire with a plastic handle and an electric cord. You plugged it in, put it in a cup of water, and shortly it would boil the water. On the day of the demonstration, I skillfully placed a cup of water on top of the glass display case, plugged the heater in, and set it in the cup of water, all the while praising the attributes of my product. I then lifted the heater out of the water, and as I was saying: "You can see just how hot it gets..." the radiant red coil began to melt in my hand. A piece of it dropped on the glass display case, and cracked the thick glass, bringing my demonstration to a climatic and sudden end.
I was so dumbfounded, I just stood there staring at the thing. Mr. Hartman (whom everyone called "The Goblin"), jumped out of his seat, ran to where I was, and unplugged it. My classmates howled with laughter, I turned as red as the heater, and the goblin's face was as white as...well, a goblin.
A couple of decades later I was in Dallas, TX, managing a mortgage office. The prospective mortgagee I was interviewing happened to be a former AHHS Co-Op student, about eight years my junior. When I told him my demonstration story, his eyes got big, and pointing at me like I was a movie star said: "OH MY GOD, YOU'RE THE ONE!" He then went on to tell me that Hartman used my experience as a teaching example (probably until the day he retired) on becoming totally familiar with your product before demonstrating it. Let me tell you, after hearing that, I forever empathized with Vinko Bogataj, the hapless Yugoslavian skier, whose spectacular wipeout (The Agony of Defeat) was shown week after week on the opening credits of the Wide World of Sports. Some things we just never live down.
---

UPCOMING BIRTHDAYS