Arthur Hill High School 65

In Memory
Mary Ann Torres (Fulgencio. ) - Class Of 1965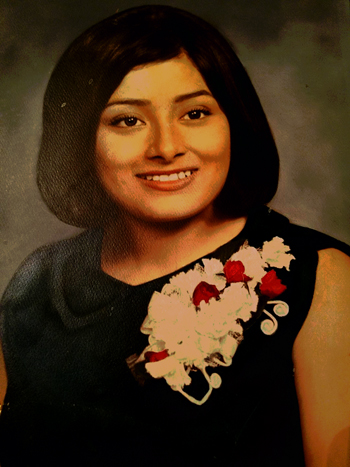 Mary Ann Fulgencio of Saginaw, Michigan,

Beloved mother, grandmother, sister, and friend passed away unexpectedly on Tuesday, January 21, 2020, at Covenant HealthCare - Cooper. She was 72 years old. Mary Ann Torres was born on June 13, 1947, in Saginaw, Michigan, to the late Julio and Aurelia (Medina) Torres. She was a proud 1965 graduate Arthur Hill High School. Following graduation, she worked as a retail clerk for Newman's for three years. Mary Ann always appeared beautiful, classy, and dressed fashionable. More rewarding than any job, she found comfort, love and joy in being a stay at home mother. Mary Ann was of the Catholic faith and attended Old Town Christian Outreach Center with her sister, Josephine. She enjoyed shopping, family gathering, but above all, she loved spending time with her children and grandchildren.

Surviving are two daughters and two sons: Christine Fulgencio of Saginaw; Thomas Fulgencio of Saginaw; Matthew Fulgencio of Saginaw; Catriana Abram of Saginaw; two grandchildren: Brandon and Nevaeh of Saginaw; four sisters and three brothers: Josephine Silva of Saginaw; Ramon Torres of Saginaw; Esther Harris of Saginaw; Marta (Juan) Cadena of TX; Ralph Torres of Saginaw; Eliza Hesse of St. Charles; Cruz Torres of Saginaw; a sister-in-law, Lois Torres of Saginaw. Also surviving are many nieces, nephews, extended family members and friends.

She was preceded in death by a grandson, Charley Fulgencio Geweniger; two brothers: Richard Torres; Carlos Torres; two sisters: Paula Torres, Minerva (Scott) Hales; brothers and sisters-in-law Lupe Silva; Diane Torres; Ken Harris; Joe Hesse.